Wiebke Hoogklimmer - Contralto, Producer and Director
jewish contemporary composers for contralto and percussion, percussion solo and contralto solo
berthold goldschmidt (1903-1996), tzvi avni (*1927) WORLD PREMIÈRE
herbert brün (1918-2000), leon schidlowsky (*1931)
anna rubin (*1946)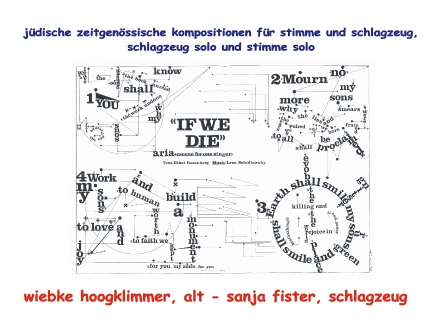 The way this programme came about is unthinkable without the internet. The american composer Anna Rubin contacted me after visiting my website and asked me to sing her "ICE SONG" for voice and percussion. I had the idea to perform a concert with jewish contemporary composers for contralto and percussion and I was looking for material. During this search I contacted many websites worldwide which related to jewish music. There are not many pieces for contralto and percussion. That is why the jewish composer Tzvi Avni offered to compose something for this concert. The world première was on July 6th, 2003.

Berthold Goldschmidt: "Noble little soldier's wife" for bariton and xylophone. He is a "forgotten composer", because he had to leave Germany in 1933. His composition is from 1948, the text is Wolfgang Borchert's "Draußen vor der Tür", a famous german drama against the war.

Leon Schidlowsky composed "If Wie Die" in 1981. It is for voice only. The words are the poems by Ethel Rosenberg. She was killed together with her husband by the Americans in 1953, because the Americans hat the suspicion, that the Rosenberg had betrayed the atom bomb to the Russians. The composition is in graphical notation and I am performing it scenical.

The composition by Herbert Brün "Just seven for drum" is for Snare solo (1987).

The "ICE SONG" by Anna Rubin is for voice and percussion and was composed in 1992 and is very dramatic. The inuit women are waiting for their hunting men and they are hungry. The narrator is pregnant and she gives birth and she has nothing to eat. She kills her baby and eats it.

The world première "Feste Shtilkeit" by Tzvi Avni is for voice and percussion and in Yiddish. There are 3 songs on poems by Avraham Chalfi (Yiddish translation by Bracha Kopstein). The world première was on July 6th, 2003.

The other piece by Tzvi Avni is the 3. variation of "Five Variations für Mr. K." for vibraphone solo. The "Five Variations for Mr. K." are for tape and percussion and are inspired by the life and the personality of Franz Kafka (Mr. K.).

PROGRAMME
| | |
| --- | --- |
| Berthold Goldschmidt | "Noble little soldier's wife" for |
| (1903-1996) | bariton and xylophone, composed |
| | in 1948 for Wolfgang Borcherts |
| | "Draußen vor der Tür" |
| | |
| --- | --- |
| Tzvi Avni | "Feste Shtilkeit" - WORLD PREMIÈRE - |
| | by Avraham Chalfi in Yiddish (translated from |
| | Hebrew by Bracha Kopstein) |
| | |
| --- | --- |
| Herbert Brün | "Just seven for drum" |
| (1918-2000) | for snare solo, composed in 1987 |
| | |
| --- | --- |
| Leon Schidlowsky | "If We Die" |
| | Text by Ethel Rosenberg from 1953, |
| | before her execution through the american |
| | government; composed in 1981 |
---
| | |
| --- | --- |
| Tzvi Avni | aus "Five Variations for Mr. K." |
| (*1927) | the 3. variation for vibraphone solo, |
| | composed 1983, revised 2002 |
| | |
| --- | --- |
| Anna Rubin | ICE SONG: Fantasy on an inuit |
| (*1946) | for voice and percussion, text by |
| | Anna Rubin, composed 1992 for the |
| | MusicAlaskaWomenFestival |
| | |
| --- | --- |
| | Click here for the next programmes: |