Wiebke Hoogklimmer - Contralto, Producer and Director
Gypsy songs

(Zigeunerlieder)
by Johannes Brahms (1833-1897), Robert Schumann (1810-1856),
Peter Tschaikowsky (1840-1893), Antonin Dvorák (1841-1904)
and Franz Liszt (1811-1886)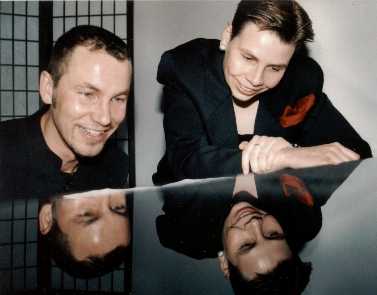 Stefan Laska
and Wiebke Hoogklimmer
"Gypsy songs", "little gypsy songs", and "gypsy melodies" are some of the numerous titles which romantic composers like Schumann, Brahms, Dvorák, Tschaikowsky and Liszt have used for transcription of 19th century literature.

Why were "gypsies" and their music so fascinating during the 19th century?

Romanticism consciously detached itself from classicism and is full of the feelings of longing. Longing for the "blue flower" (Novalis), bordering transgression, the world of legends and fairytales, the mystery of death, longing for others, the truth and something better and other forms, etc.
Within this romantic longing gypsies epitomize complete freedom, love without the refines of society, intensive attachment of the self to nature and the longing for love entwained with death.

What's interesting is that Schumann was interested in the political aspects of the gypsies as a harrassed ethnic group, Brahms transcribed folkloric texts on gypsy love. Dvorák exposes the free gypsy in his "Gypsy melodies". Liszt gives us the clearest answer in his version of Lenau's poem "the three gypsies" about a travelling bourgeois in his coach, looking out enviously at three gypsies lying idly and carelessly at the wayside.
PROGRAMME
| | |
| --- | --- |
| Johannes Brahms | Zigeunerlieder op. 103 |
| (1833-1897) | 1. He, Zigeuner |
| | 2. Hochgetuermte Rimaflut |
| | 3. Wisst ihr, wann mein Kindchen |
| | 4. Lieber Gott, du weisst |
| | 5. Brauner Bursche |
| | 6. Roeslein dreie |
| | 7. Kommt mir manchmal in den Sinn |
| | 8. Rote Abendwolken zieh'n |
| | |
| --- | --- |
| Dmitrij Schostakowitsch | 3 phantastische Tänze op. 5 |
| (1906-1975) | 1. Allegretto |
| | 2. Andantino |
| | 3. Allegretto |
| | |
| --- | --- |
| Robert Schumann | Zigeunerliedchen Nr.1 op. 79 Nr. 7 |
| (1810-1856) | Zigeunerliedchen Nr. 2 op. 79 Nr. 8 |
---
| | |
| --- | --- |
| Aram Chatschaturjan | Toccata (Allegro marcatissimo) |
| (1903-1978) | |
| | |
| --- | --- |
| Antonin Dvorák | Zigeunermelodien op. 55 |
| (1841-1904) | 1. Mein Lied ertoent, ein Liebespsalm |
| | 2. Ei, wie mein Triangel wunderherrlich laeutet |
| | 3. Rings ist der Wald so stumm und still |
| | 4. Als die alte Mutter |
| | 5. Reingestimmt die Saiten |
| | 6. In dem weiten, breiten, luft'gen Leinenkleide |
| | 7. Darf des Falken Schwinge |
| | |
| --- | --- |
| Franz Liszt | Die drei Zigeuner |
| (1811-1886) | |
Wiebke Hoogklimmer, Contralto

Stefan Laska, Piano
Stefan Laska, born in 1962, took his first piano lesson at the age of 6. His early interest in chamber music and accompaniment led to his participating in numerous school concerts and operas.
In 1981 he won a "special bonus first class" for piano accompaniment in the "Youth makes music" competition.
From 1982 to 1987 he studied piano at the HdK in Berlin (Prof. Bella Jasper-Tomka).
In 1987, after completing his studies he took a further four years of piano tuition with Alan Marks (who later became Prof. at the "Hanns Eisler" Academy of Music).
From 1987 to 1989 Stefan Laska co-founded of the musical cabaret group Trivital and starred as pianist and singer for more than 40 performances.
In 1988 he also appeared as jazz and entertainment pianist in the SFB tv talkshow "Friday Night".
Since 1986 Stefan Laska teaches piano at the Music School Tiergarten, Berlin and vigorously pursues his solo and chamber music activities. [back]
| | |
| --- | --- |
| | Click here for the next programmes: |