Wiebke Hoogklimmer - Contralto, Producer and Director
"Der Krieg ist gestorben" ("The War has died")

The dream of peace in the imagination of
composers from Argentina, Mexico,
Columbia and the USA
Four World Premières for Wind Quintet and Contralto

Virtú Maragno (1928-2004, Argentina), Arturo Pantaleón (*1965, Mexico),
Gabriel Soto (*1976, Columbia) und Anna Rubin (*1946, USA)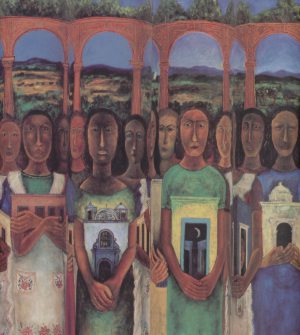 Wiebke Hoogklimmer, Alt
Musagetes-Quintet
Yasuko Fuchs-Imanaga, flute
Peter Michel, oboe
Antje Gerber, clarinet
Arturo Pantaleón, French horn
Elisabeth Böhm-Christl, bassoon
- with the support of the Senatsverwaltung für Wissenschaft, Forschung und Kultur Berlin, of the Kulturamt Neukölln, of the Ibero-Amerikanischen Institut, of the Mexikanisches-Deutsches Forum Zeitgenössischer Künste e.V.g. and of the Botschaft der Republik Argentinien -
The composer Anna Rubin, whose "ICESONG" I performed last year in Berlin, had the idea to compose a new piece for me. Because I was interested in a unusual combination of instruments and voice, I asked the Musagetes-Quintet. Anna Rubin was inspired to compose something for wind quintet and contralto. Also Arturo Pantaleón, French horn player and composer was inspired to write a piece for this combination. He asked the composer acquainted with him Gabriel Soto and Virtú Maragno and they were very interested to compose something for wind quintet and contralto.

Each composer was instructed do write a piece of about 18 minutes length. It is astonishing that all composers of different nationality and generation have choosen a simular theme independent of each other. The title "Der Krieg ist gestorben" ("The War has died") is stimulated by the so named poetry contest in Columbia 2003.

Anna Rubin (*1946 - USA), ), IXOX for mezzo-soprano and wind quintet is based on a poetry in Spanish and English by Zoe Anglesey and Giacondo Belli, translated by Elinor Randall. The passionate texts evoke the indigenous peoples of Central America and their contemporary struggles. (world première on 2004 November 14th).

Gabriel Soto (*1976 - Columbia), sets to music poems by Augusto Pinilla and Henry Luque Muņoz: 6 Lieder Op.9 (world première on 2004 November 14th)

Arturo Pantaleón (*1965 - Mexico), sets to music the forgotten Indian language of the Zapoteca from Ohaxaca in the south of Mexico, which deals with the dream of peace.
"Lamentos Indigenas, Op. 21 para quinteto de alientos, percusiones indigenas y contralto". (world première on 2004 November 14th)

Virtú Maragno (1928-2004 Argentina), sets to music a spanish poem by Pablo Neruda: "Si solamente me tocaras el corazón"...(the text is from the poem "Barcarola" of his book "Residencia en la Tierra").
Virtú Maragno died through an accident on 2004 February 24th and left a fragment. Because the complete scores arrived in Berlin only a few days before the concert, we couldn't perform this composition.

To complete our programme we added a composition by Helmut Friedrich Fenzl (*1953) "Musica per cinque" (2001) for wind quintet from the repertoire of the Musagetes-Quintet.


| | |
| --- | --- |
| | Click here for the next programmes: |